Air Force Medics Prepared for Future CBRNE Threats > Air Force Medical Service > Posting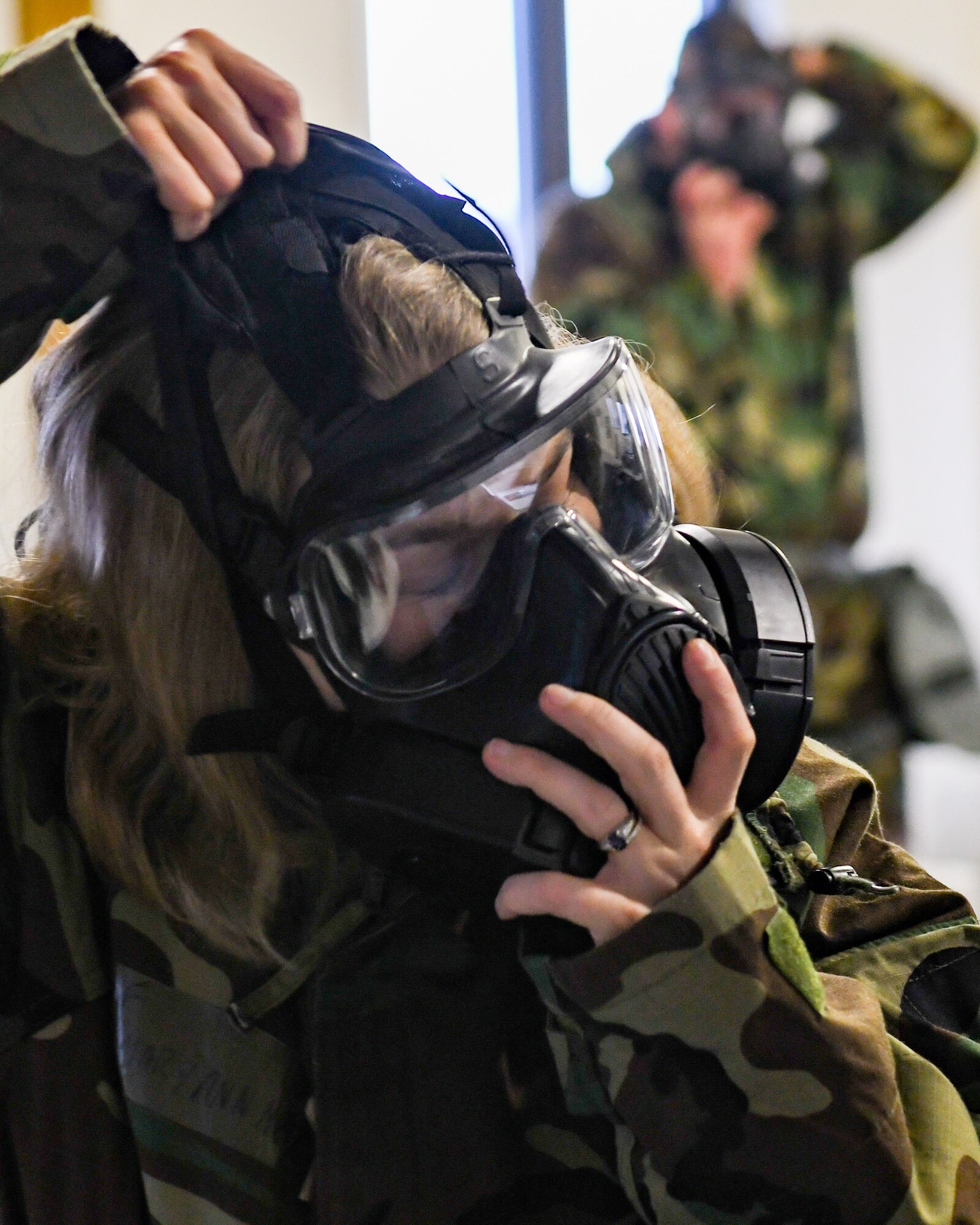 FALLS CHURCH, Virginia —
From a nuclear attack to a biological agent, the potential threats Airmen and guards could encounter are many, and Air Force Medical Service leaders are considering new ways to stay prepared.
Air Force medics responding to chemical, biological, radiological, nuclear, and high-yield explosive events enhance their threat detection and response capabilities. Not only are doctors preparing to respond to potential new CBRNE threats, they are also preparing to respond in newer operational environments.
On U.S. installations and in expeditionary environments, Air Force medics engage in CBRNE threat recognition, patient decontamination, identification and detection of specific threats, and countermeasures medical or preventative measures to mitigate the threat.
"We have optimized our casualty care and our response to patient movement over the past 20 or 30 years in a permissive air-dominated environment where we had excellent care at the point of injury, rapid movement to specialist intensive care in air hubs and the ability to fly out patients when we needed them," said Maj. Gen. John DeGoes, Air Force deputy chief medical officer. "But in high-end combat, we may not have access to these facilities or may not have the ability to airlift patients when we need them. In the face of a CBRNE threat, we must learn to maintain that same capability that we have honed over the past three decades in a dynamic new environment."
An important aspect of the CBRNE response is recognizing the threat itself to know exactly how to respond.
"There are two ways to look at threat detection," said Brian Smith, Air Force Medical Counter CBRNE Branch Chief, Air Force Medical Readiness Agency. "One is to detect to warn when we identify an incoming chemical or biological agent in time to initiate preventive measures such as the use of medical countermeasures, wearing equipment or evacuation. The other is to detect to treat where the threat is identified in time to provide treatment, minimize damage and save lives.
Air Force bioenvironmental engineers work alongside other Air Force agencies, such as emergency management, to assist in CBRNE detection.
"As bio-environmental engineers, the core of our job is to ensure occupational and environmental health and safety in workspaces," said Lt. Col. Steven Tang, chief of preparedness programs to Bioenvironmental Engineering, Air Force Medical Readiness Agency. "With this expertise, we are proficient in CBRNE response."
"We have focused our training on what we call 'major conflict operations scenarios,'" said Lt. Col. Steven Tang, chief of bioenvironmental engineering readiness programs, Air Force Medical Readiness Agency. , after 9/11, the focus has been on the terrorist use of CBRNE weapons.Since then, we have been looking at the potential use in peer and near-pear conflicts, which could involve different types of dangers and different levels of skills that we incorporate into our training.
Read more: CBRNE Defense Course Prepares Airmen
In addition to advancing the detection of new CBRNE threats, training evolves as the operating environment changes.
"We are changing our concept of operations to match a new dynamic that a CBRNE threat could be anywhere," Smith said. "While we have done great things in the theaters we currently operate in, we need to think about how we operate in new environments. Treatment and recognition that could have been done at a higher level of care must now be done and planned for at all levels.
AFMS is also turning to new technologies to help its doctors respond to changing threats, such as improved radiation detection systems and laboratory capabilities that allow doctors to identify a wider range of threats even faster. .
"As for future CBRNE events, we need to train for the potential that we will all need to be CBRNE proficient to care for ourselves, care for others, and care for the mission," Smith said. "There is no security assumption in these scenarios and we all need to be prepared."