Cresco Spine Closes Seed Investments to Develop Innovative Dynamic Surgical Therapy for Scoliosis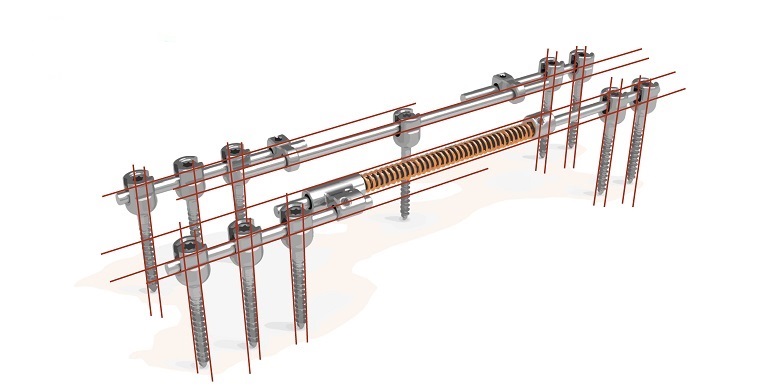 June 24, 2022 – Utrecht, Netherlands /OrthoSpineNews/ –
Cresco Spine, a new player in the spine field and a spin-off from the University Medical Center in Utrecht (Netherlands), announced today that it has raised seed investments from InSpine and Utrecht Health Seed Fund (UHSF) to further develop their unique surgical spine correction platform "Dynamic Implant SolutionsMT" (SAYMT), initially focused on early scoliosis.
Early-onset scoliosis is a serious and life-threatening condition in a group of young and vulnerable patients. These patients are severely affected by this condition which can lead to impaired cardiopulmonary development. Treatment is associated with high complication rates and typically requires multiple surgeries in the first few years of life. Additionally, multiple hospital visits for follow-up are required, further increasing the disease burden and healthcare costs.
Within its "Dynamic Implant SolutionsMT", Cresco Spine finalizes the Spring Distraction System (SDSMT) for market introduction. SDSMT is a unique spring-based dynamic distraction system that works with standard posterior pedicle screw fixation. The system has the potential to guide growth in three dimensions without requiring invasive lengthening procedures. This will improve outcomes, while minimizing re-operations and surgical and anesthetic burden in this vulnerable patient group. Several follow-on opportunities for Cresco Spine technology have been identified and will be the following within the DISMT Platform.
Prof. Dr. René Castelein, Orthopedic Surgeon and Chief Medical Officer of Cresco Spine, said: "This new 'growth friendly' solution has already proven its potential in several prospective clinical studies, the system even outperforms existing therapies, by terms of outcomes and disease burden. for the sick. Based on conversations with orthopedic surgeons around the world, the need for better treatment options is clear, and I look forward to working with clinicians around the world to raise the bar in this very challenging area.
Michiel Schwartz, CEO of InSpine comments, "We are always striving to bring improvements to spine patients, which is reflected in our portfolio and even more so in our past and recent product developments. We see a huge need in this particular area of ​​spinal care combined with a strong potential for innovation. This investment will allow us to complete the next stages of development and work towards obtaining regulatory approval. »
Jaap de Bruin, fund manager of UHSF, said: "We are very pleased to support Cresco Spine and strongly believe in its mission and potential. Cresco Spine's approach to scoliosis treatment is to improve quality of life and outcomes, while reducing overall healthcare system burden and costs, which aligns well with our investment objectives.
General statements
About Cresco Spine
Cresco Spine is a medical technology company that develops surgical spine therapies focused on improving scoliosis care. Cresco Spine was founded in 2021 as a spin-out from the University Medical Center in Utrecht, the Netherlands.
For more information, please visit https://www.cresco-spine.com
About InSpine
InSpine is a Dutch medical company with a strong commitment to improving (complex) spine surgery. Therefore, InSpine is focused on delivering the right products and technologies with associated services and supporting breakthrough spine innovations.
For more information, please visit www.inspine.nl
About the Utrecht Health Seed Fund
Utrecht Health Seed Fund (UHSF) is a life sciences and health investment fund based in Utrecht, the Netherlands, focused on scalable technologies in the field of life sciences (therapeutics and diagnostics), medical devices, digital health and animal health. Health in the early stages of development. UHSF is created by Utrecht Holdings with the help and support of the European Regional Development Fund (ERDF), UMC Utrecht and Utrecht University.
For more information, please visit www.uhsf.nl.
Contact information
Dennis Magermans, CEO Cresco Spine, [email protected]