MOLLI Surgical's Breast Cancer Technology Named in TIME's Best Inventions 2022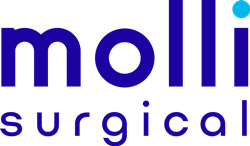 DEERFIELD, Ill. (PRWEB)
November 15, 2022
MOLLI Surgical's wireless and radiation-free breast cancer localization technology has been named for TIME's best inventions of 2022 list in the Medical care category. Each year, TIME rewards inventions that solve compelling problems in creative ways.
When patients find out they have cancer, they face a difficult road. If the patient needs surgery, MOLLI® is the smallest localization device on the market that marks the lesion for the surgeon to remove with precision and confidence. Marking the lesion has traditionally been a difficult experience for the patient – MOLLI can help make this experience less traumatic.
MOLLI Surgical began after a patient came forward and shared her journey using the traditional wire tracking method – specifically, the anxiety, pain and discomfort she felt while waiting for surgery. Listening to it inspired both the device and the company. Since then, the team has been on a mission to dramatically improve the overall experience for patients and care teams.
MOLLI is FDA cleared and Health Canada approved. It allows surgeons to identify cancerous tissue more quickly and with confidence, providing an improved experience and better aesthetic outcomes for breast cancer patients. MOLLI can also be used to improve the lives of patients with other types of cancers. The wireless technology includes the MOLLI Marker®, the size of a sesame seed, which is reliably detected using the MOLLI Wand®. The MOLLI Tablet® then displays the distance to the nearest millimeter between the tip of the MOLLI Wand and the MOLLI Marker.
"Our team works hard on every design choice to reduce the mental, physical and systemic burden on physicians and care teams while truly keeping the patient at the center of everything we do," said Ananth Ravi, Ph.D. ., President and CEO of MOLLI. Surgical Inc. "Words cannot express how thrilled we are that TIME has recognized what we have accomplished with MOLLI. This honor will continue to motivate us to improve the healthcare experience while making MOLLI accessible to as many people as possible.
To learn more, please visit mollisurgical.com.
About MOLLI Surgical:

Molli surgery started in the operating room, where surgeons used outdated tools to treat cancer patients – and we knew we could do better. Our surgical wand is precise, reliable, easy to use, and designed with the realities of the operating room in mind. Most importantly, it's built with patients in mind. Our technology replaces lesion marking procedures with a more accurate, efficient and cost-effective procedure. MOLLI Surgical prides itself on building the state-of-the-art equipment that patients prefer to have and doctors prefer to use. follow us on Facebook, LinkedIn, Twitterand Youtube.
Share the article on social networks or by e-mail: