Perform free cleft lip surgeries and restore smiles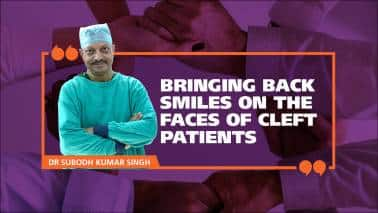 By performing over 60 free corrective cleft lip and palate surgeries in India, Dr. Subodh Kumar Singh is transforming the future of every child suffering from this common genetic condition, one surgery at a time.
Cleft lip and palate are common birth defects, with nearly one in 500 children in Asia born with this defect. The condition has medical and social implications for children and their families. The resulting facial abnormalities not only cause children to be shunned and ridiculed, but also make them vulnerable to health problems such as feeding difficulties, hearing impairment and dental problems. Although the medical problem can be solved at an early age through corrective surgery, the affordability of the procedure is a major hurdle, especially in rural parts of India.
A plastic surgeon from Varanasi, Uttar Pradesh is helping disadvantaged people overcome this challenge of accessing surgical services by performing free reconstructive cleft lip and palate surgeries. Dr. Subodh Kumar Singh, after losing his father at the age of 13, was in his opinion due to a lack of adequate medical resources at the hospital. Years later, he started working as a doctor, establishing a hospital in memory of his father. The loss of his father and the difficulties faced by his family prompted Dr. Subodh, a plastic surgeon, to ensure that disadvantaged people have access to these medical services.
While studying plastic surgery, he noticed how widespread cleft lip and palate conditions were in India. These complications can be avoided with reconstructive surgery, but the poor cannot afford it. It was then that Dr. Subodh decided to perform reconstructive surgeries for such conditions at no cost.
Over the past 18 years, he has performed over 38,000 free cleft surgeries. His corrective procedures have also been adopted by doctors in states such as West Bengal, Uttar Pradesh, Jharkhand, Bihar, Madhya Pradesh and Chhattisgarh among others. To amplify his efforts, he partnered with Smile Train, a US-based NGO, and successfully conducted over 60 lakh surgeries.
His unwavering support and service in tackling this medical cause also inspired and was featured in the 2008 Oscar-winning documentary, Smile Pinki. Additionally, he was recognized for his selfless humanitarian work in the 2013 Wimbledon men's singles final.
Join us in recognizing Dr. Subodh Kumar Singh's efforts to restore healthy smiles to Indian children and their families. Watch his story unfold on Network18 presents Badlaav Humse Hai powered by AU Small Finance Bank: https://bit.ly/3S6Y7j8
Moneycontrol journalists were not involved in the creation of the article.