WonderKids Event Marks Cleft and Craniofacial Awareness Month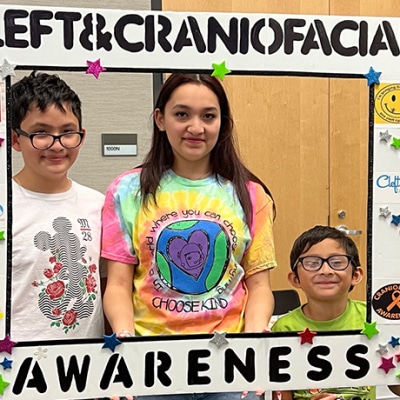 The Texas Cleft-Craniofacial team at UT Physicians held its 4e WonderKids annual workshop and concert on July 15 on the UTHealth Houston campus. Inspired by the movie "Wonder," the event celebrates children who overcome cleft and other craniofacial conditions during National Cleft and Craniofacial Awareness Month.
Several wonderful patients in the Craniofacial practice spent the day participating in recreational and educational activities and making friends. Participants and volunteers all received a "Choose Kind" t-shirt.
"My favorite part was making a friend named Bob," said Adley Neel, 9, of Waller, Texas.
Adley, a patient with bilateral cleft lip and palate literally made her friend Bob out of cling film with the help of teammates.
Other activities include watching clips of "Wonder" and the Pledge of Kindness, meeting Penny the Therapy Dog, and learning about cavity prevention from dentist Paloma R. Nguyen, DMD, MS. .
Another highlight was 16-year-old guest speaker Tanisi Tripathi from Houston. Tripathi, a patient with cleft palate, not only volunteered for the event, but agreed to tell her story.
"I told them when I was young, a lot of kids and parents didn't know what I had, and I felt lonely," Tripathi said. "I let them know they're not alone. I also told them to embrace any challenge and turn it into an opportunity to do something you love or care about.
Tripathi will graduate from high school in 2024 and continue her studies until she becomes a craniofacial surgeon. She hopes to attend McGovern Medical School for her training.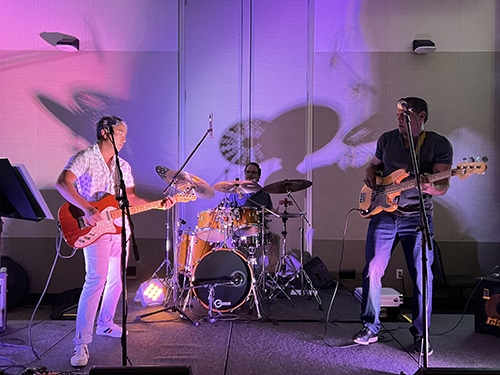 At the end of the day, WonderKids, parents and volunteers enjoyed a pizza dinner and a special concert of 80s and 90s rock hits performed by a trio of in-house talent.
The doctors/musicians who rocked the house were: singer and guitarist Phuong D. Nguyen, MD, pediatric plastic surgeon with UT Physicians Pediatric Surgery – Texas Medical Center; associate professor and chief of pediatric plastic surgery; and director of craniofacial surgery in the division of plastic surgery in the department of surgery at McGovern Medical School; drummer Mark J. Dannenbaum, MD, assistant professor in the Vivian L. Smith Department of Neurosurgery at McGovern Medical School; and singer and bassist Soham Roy, MD, former Director of Pediatric Otolaryngology at UT Physicians and former Professor and Vice President of Academic Affairs and Quality Chief of Pediatric ENT at McGovern Medical School.
Anna Samples, 26, from Houston, stopped by the event after finishing her shift to visit the team members who changed her life.
Samples, a former patient with cleft lip and palate, visited her surgeon John F. Teichgraeber, MDretired co-director of the Texas Cleft-Craniofacial team and nurse Irene "Leanne" Doringo, MSN, RN, former Clinical Care Coordinator for the Craniofacial Cleft Team.
"My mom was a volunteer at the event, and I just wanted to stop by and see what was going on," Samples said. "I'm glad I was able to visit. I have known Dr. T since I was four years old.
See all the rockin' smiles WonderKids Workshop and Concert.